Uche Ujesieme
The Nigeria Customs Service Tincan Island Port Command, on 1st June, 2017, handed over 2 suspected stolen Range Rover SUV to Interpol.

In his narrative while handing over the Range Rovers, the Controller Tincan Island Port, Comptroller Bashar Yusuf disclosed that the interception was sequel to intelligence report from Interpol. He stated that the vehicles loaded in a 1x40ft container No. UACN 548368\1 was imported from Washington D.C in the United States of America and declared as Toyota Tundra and Chevrolet Cruiz with some bicycles.
He stated further that based on the intelligence made available to Customs from Interpol, all consignments from the United States were placed on high surveillance to ensure that the suspected container is tracked.
"The vessel was monitored from the port of loading to Tincan Island Port and was intercepted on arrival at the Tincan Island Port". The vehicles are Gold coloured Range Rover Suv 2014 with Chasis No.SALGS2VFGEA126188 and one black coloured Range Rover Suv 2015 with Chasis No. SALGS37FOFA239330.
Comptroller Bashar expressed the deep commitment of the Nigeria Customs Service to partner and share intelligence with all agencies both foreign and local in the spirit of inter-agency collaboration and synergy.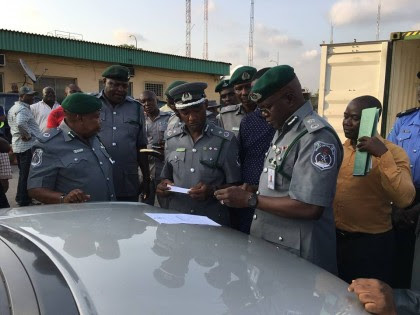 Generally speaking, he was emphatic that the interception will portray the country in good light considering the concerted effort of the service in ensuring that the exhibits were tracked. He reiterated the need for Nigerians to desist from acts capable of bringing the country to disrepute, particularly in this era of Information Technology where interception of this nature will be Internet based.
He vowed that the Nigeria Customs Service will resist any attempt by any individual or organization to use Nigeria as a conduit pipe for illicit transactions and noted that Interpol Nigeria will subject the vehicles to due diligence investigation through the Courts and will eventually use their internal mechanisms for repatriation of the vehicles to the United State