UFC fighters react to Israel Adesanya's beautiful KO win over Robert Whittaker
SHARE TWEET EMAIL
By: Andy Nesbitt | October 6, 2019 1:31 am
Israel Adesanya entered UFC 243 as a slight favorite over middleweight champ Robert Whittaker in Australia on Saturday night.
And then he went out and showed everyone why as he finished Whittaker in the second round with a flurry of beautiful strikes that sent the champ to the ground and led to the end of Whittaker's impressive title reign.
Now Adesanya's stardom is only going to grow and rightfully so because what a talent he is. He controlled the first round and then won it in the second and always looked comfortable against a great champion.
Adesanya had fun celebrating his big win moments after the fight was stopped:
Naija stand up! HE'S DONE IT!@Stylebender finishes Whittaker in the 2nd round! Wow! #UFC24312.5K5:33 AM – Oct 6, 2019Twitter Ads info and privacy6,846 people are talking about this
His family loved it:

The Adesanya fam celebrates @stylebender's coronation at #UFC2432,6396:17 AM – Oct 6, 2019Twitter Ads info and privacy807 people are talking about this
And UFC fighters were in awe:

And then there were 2 UFC UNDISPUTED CHAMPIONS Congrats my brother @stylebender #wenodeycarrylast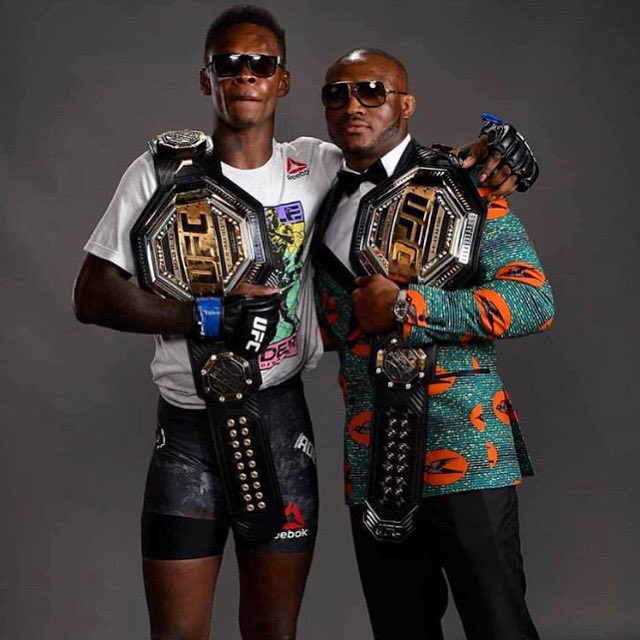 5,3466:08 AM – Oct 6, 2019Twitter Ads info and privacy1,242 people are talking about this
Beautiful performance by @stylebender3,7295:33 AM – Oct 6, 2019Twitter Ads info and privacy459 people are talking about this
Wow.. @stylebender is that man! #UFC2438465:36 AM – Oct 6, 2019Twitter Ads info and privacy115 people are talking about this
Luis Antonio Pena✔@violentbobross
Got damn! #andnew6055:36 AM – Oct 6, 2019Twitter Ads info and privacy72 people are talking about this
@stylebender #UFC2436235:36 AM – Oct 6, 2019 · Fontana, CATwitter Ads info and privacy82 people are talking about this

Wow that's a baaaad man8135:33 AM – Oct 6, 2019Twitter Ads info and privacy121 people are talking about this