International journalist Ahmed Salkida has reported the continued and sustained mayhem being unleashed on Zamfara state, Northwest Nigeria by suspected bandits who kill and abduct residents in their hundreds.
#Zamfara are bleeding both in blood and in cash. The terrorists are daily making millions, milking an already constricted populace of resources and cash, enough to maintain a steady scaling up purchase of arms and ammunition.
The #Sahel territories have become a sanctuary of small arms. The arms easily flood Niger Republic, a bastion of sorts for the bandits and sharing borders with parts of Zamfara state, it's not a surprise that the onslaught against the people are funneled from #NigerRepublic.
On 13th March, 2019 Nigerian military killed scores of the outlaws and rescued over 700 prisoners. Informatn obtained frm some of the captives suggests a carefully organized terror bands, creating clusters undetected by any security radar that are unequipped to grasp the problem.
A day after a major military operation, armed gangs killed scores of villagers in Aljimma, in Maradun LGA, the number of those abducted is not yet given, but a single source report put the figure at 20. A villager is now trying to sale his farmland to meetup with ransom payment.
The villager was, however, reminded that no one can buy his farmland, it bears no value bcz as the raining season sets in, there may not be any farming activity this year and this will be as devastating as the violent attacks. 90% of the people rely on subsistence farming.
On the 16th March at exactly 6pm the village of Kware was attacked again, there appears to be no deployment after this same village lost about a hundred people lately. On the same day, bandits opened fire on commuters, killing and abducting dozens.
Within the week there has been violent attacks in Shinkafi, Anka, Zurmi, and Gusau, there were attacks, this afternoon. The people have given up hope and this is demonstrated in the photos of people queuing to receive charms from a talisman to protect against gun shots.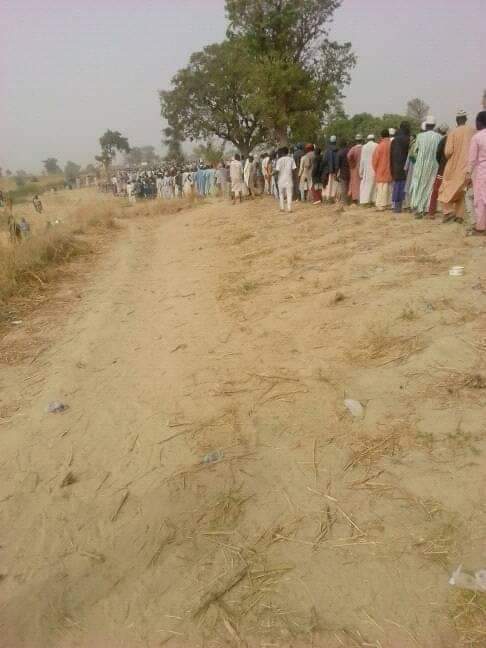 In March 2019 alone, this reporter compiled 182 deaths and over 315 abductions, these are conservative figures according to the people on ground, it is a war situation, yet no massive military deployment, no official recognition of the tragedy in Zamfara State so far.
The attacks in Zamfara bear the hallmark of Ansaru, armed bandits, violent herdsmen and cattle rustlers, Zamfara is apparently a transit zone for different violent groups, from where attacks are organized and carried out across Northwest Nigeria.
Also, the recent murder of an expatriate in Kano and the attempt on a German expatriate bear the signature of Ansaru. Are we looking at these dynamics closely? If the violence in #Zamfara is not addressed, it may likely spread all over Northwest #Nigeria and beyond.
Culled from Ahmed Salkidi @A_Salkida