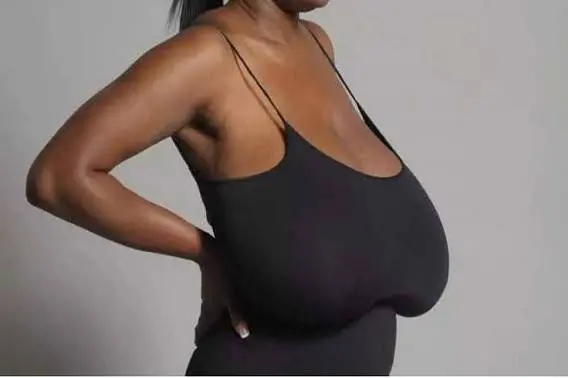 Saggy or fallen breast is a change in the appearance of a woman's breast. This happens to both young and older women although it occurs more in women as they grow old.
This condition has made some women feel low self-esteem as most of them are often body shamed. The medical term for saggy breasts is breast ptosis.
So in this article, we will be looking through some of the possible reasons why most ladies suffer from ptosis, which is popularly known as fallen/saggy breasts.
Here are some medical proven reasons for fallen breast:
1. Aging: When a woman grows old, she losses her skin elasticity due to aging and this is the most common cause of saggy breasts in some women.
2. Larger breast size: When a woman has large breasts it leads to a higher chance of sagging, solely because higher breast mass is more vulnerable to gravity.
3. Smoking: This is another factor that leads to fallen breasts. Of all the factors mentioned here saggy breasts causes by the act of smoking is as a result of a person's bad habit which accelerates aging and thus contributes to sagging breasts, sometimes even earlier in life.
Do you want to reduce your risk of saggy breasts, or improve breast firmness? Here are some things you should do.
1. Manage a healthy weight
You don't necessarily need to lose weight, nor do you need to gain weight. Instead, keep weight consistent, and at a level that's healthy for you. This may help your breasts become firmer and also prevent you from having saggy breasts.
2. Wear a comfortable bra
Try and wear a comfortable bra for all your activity before engaging in them. When working outs such as jogging, you should wear a sports bra with ample support (molded cups) as this can reduce breast motion. One study suggests that breast motion from exercise leads to stretching and sagging, though more studies are needed to make this a fact. So choose your bra according to how physical you will engage in whatever you do.
3. Quit smoking
If you are a smoker, quit smoking and if you are not, do not try smoking as smoking accelerates the aging process. Aging causes tissues including breast ligaments to lose firmness. Smoking speeds aging by destroying elastin, a protein that helps skin remain firm.
If you follow the dos and don'ts that are listed here, you stand a chance of making your breast firm as it should be.
Source: Healthline